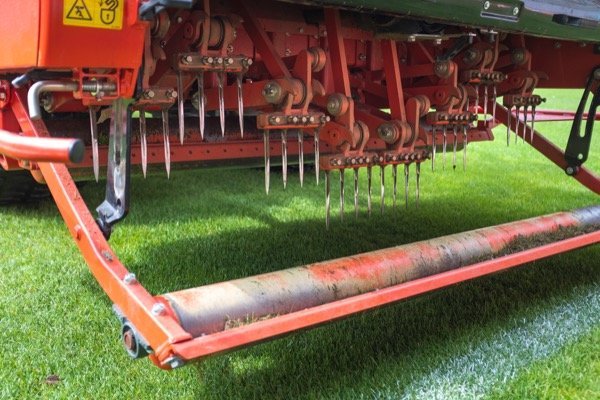 Fall is a beautiful time of year, but a beautiful lawn doesn't happen on its own without some help. Hydro-Tech Irrigation wants to help you get your best yard this autumn season. Here are a few tips to help.
Removing Grass Clippings from the Lawn
Leave them there! Think of it as less work for you and better nutrition for your grass.
Forgetting to Aerate Every Fall
As time goes by, lawn mowers, pets and trips to the mailbox all compact the soil of a yard, which makes it hard for air, water or nutrients to penetrate down to the grassroots. Aeration loosens the soil to restore its health.
Using a Dull Mower Blade
Did you know? Dull mower blades rip grass rather than slicing it. Lawns that have been mowed with a dull blade looks brown on top.
Forgetting to Dethatch
Thatch–the layer of slowly decomposing grass stems, roots, clippings and debris- accumulates at the soil surface over time. When it builds up on your lawn it can choke the grass. Excessive thatch is often found when you've over-fertilized or overwatered and have never been aerated. Good news: aeration takes care of dethatching!
Ignoring Shady Areas
To keep grass growing well under shade, you'll need the right shade grass species and planting method for your region. Learn more about growing grass in shady areas here.
Over Applying Fertilizer
Avoid the urge to over apply fertilizer to shady areas when the grass is struggling because that kills it faster. You need to treat your lawn like two lawns–one that gets full sun for most of the day, and a shaded lawn that may get only two to four hours of direct sun—and their water and fertilizer needs are different.
Forgetting to Check Soil Moisture
When you have dry soil, turn on your sprinkler for 30 minutes. Then turn off the water and check the soil for moisture depth with a shovel tipped forward to see how deep the water has penetrated. Moist soil will be darker. Your goal is to run the sprinkler until the water penetrates 3 to 4 inches into the soil.
Do you have a question about proper irrigation and lawn care? We're here to help! Visit our website today to learn more and schedule service today.