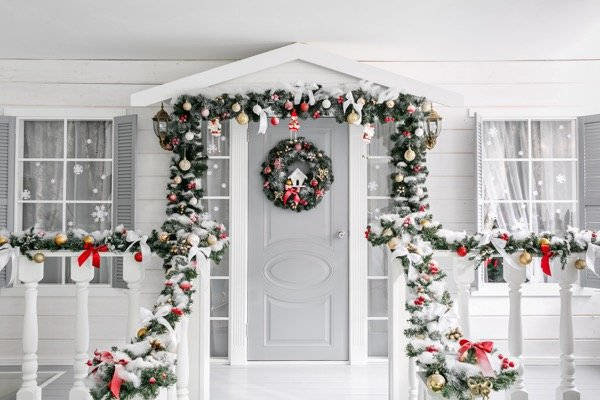 Thanksgiving is behind us, and now we're looking ahead to Christmas and the New Year. Can you believe how quickly 2018 has flown by? Hydro-Tech Irrigation Company would like to help inspire you to enjoy great curb appeal for the season!
Related: What is curb appeal?
Dress up the door.
Front doors are often the focal point of any home's curb appeal and usually the first thing guests look at to sense the style of your space. You can create a warm and inviting entrance when it's cold outside. Vibrantly painted doors are popular today, and red would go perfect with a Christmas wreath.
Add door accents.
Speaking of doors, you can add symmetrical lights, potted plants, or other fixtures to on either side of your door frame for a stylish accent to your home. Mounted sconces add extra light and seasonal plants provide an extra touch of warmth to your entryway.

Related: Look at some of the most popular door styles.
** Upgrade your hardware.**
Metal hardware like house numbers, mailboxes and door knobs don't last forever—if yours are showing wear and tear, getting new ones can make a big difference. You're not limited to shiny brass pieces, either. Today there are more choices than ever including bronze-finishes, mixed metals and contemporary brushed nickels.
Freshen your windows.
Don't overlook your windows! Windows add interest, and allow light and air to enter your home. Want to modernize your windows? You might want to go for black frames instead of white ones. You might also think about updating your home with more energy efficient ones.
Line your pathways.
How much thought have you given to your walkways and driveway? You can add stones, trim, lights and more to your property to transform your paths and offer a pretty route to your front door, welcoming your guests along the way.
Hydro-Tech Irrigation Company is here to help beautify your property. Whether you have an irrigation need or outdoor lighting, we are here for you! Visit our website today to learn more.