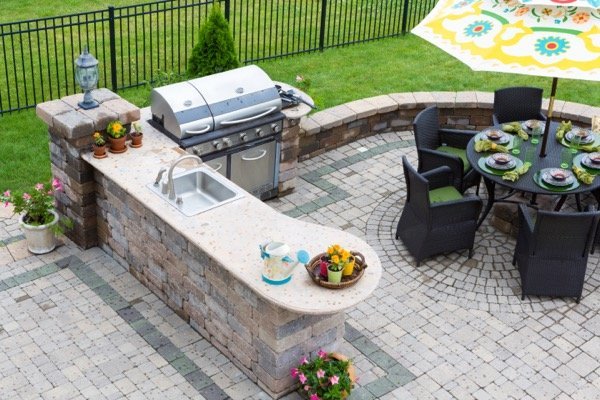 They say the heart of every home is the kitchen. Regardless of size, the kitchen is the hub of the house, where delicious meals are shared and lasting memories are made.
When warm weather hits, you still want to enjoy all of that wonderful kitchen goodness—only, outside.
For many homeowners, "an outdoor kitchen is viewed as an experience, while the indoor kitchen is viewed more as a room," according to a recent study conducted by the National Association of Home Builders (NAHB). This is a key reason why a growing number of homeowners are investing in backyard kitchens.
And the Hydro-Tech Irrigation Co. team has plenty of ideas to make your outdoor kitchen experience one for the books!
Let's take a look.
Design Considerations When Creating Your Outdoor Kitchen
First things first: When cooking up an outdoor kitchen, it's important to make choices based on your needs and how the space will be used.
Some key questions to consider as you plan your backyard kitchen include:
What design is best in regards to your home's architecture and existing landscaping?

How often will the space be used?

Do you need a small, medium-size or large area?

How many people do you plan to entertain at one time?

How many people will cook in the space?

Do you want all the comforts of an indoor kitchen or just a few basic necessities?

How much do you want to spend?
Features and appliances
With the above considerations in mind, it's time to choose which outdoor features and kitchen appliances you want to incorporate.
Are you wanting a fully functional kitchen or something more basic? Perhaps something in between?
Related: Browse these outdoor kitchen designs for inspiration!
It can be difficult to decide which elements are must-have and which, well, aren't. While this will differ for each homeowner, there are five favorites to consider that are top on this list for homeowners who currently have outdoor kitchens:
a fountain

a fireplace

a pool

a built-in grill

a pizza oven
Other kitchen features and appliances to consider adding to your outdoor cooking center include:
a seating area

a deck

a bar

a stove

a roof or canopy

refrigeration

a fire pit

a sink with running water

a standalone grill

table(s)
Lighting
What's the importance of outdoor lighting? For one, safety. You need good lighting to not only see clearly along outdoor paths, but to also prep and cook.
But that's not the only benefit outdoor lighting can provide for your outdoor kitchen: the right outdoor lighting can transform the space—and atmosphere—of any property.
Landscaping
Last, but certainly not least, there are finishing touches to consider.
And by "finishing touches," we mean:
hardscapes

—pathways, planters, garden art and sculptures. Do you want more durable, low-maintenance hardscapes? Is sustainability important to you?

softscapes

—flowers, shrubs and trees. What kinds of plants will work best in your designated outdoor kitchen area—those requiring little or lots of sunlight? Which types of greenery will help create the kitchen atmosphere you're shooting for?

irrigation

—maintenance of your softscapes and lawn. Do you have hours each week to spend watering your outdoor kitchen's softscapes or the lawn that surrounds it? An automatic irrigation system will ensure your flowers, shrubbery and yard thrive.
Thinking about a backyard kitchen upgrade? Don't forget to call Hydro-Tech Irrigation Co.—the irrigation and outdoor lighting experts. Visit our website today to learn more