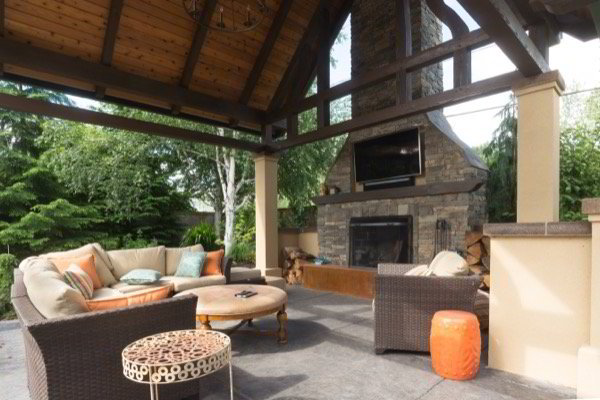 When we talk about outdoor living trends, the biggest common denominator is that people want to feel as comfortable outside as they do inside. Hydro-Tech Irrigation has a few ideas you might want to try for your own backyard.

Furniture Fit for a Living Room
These days, homeowners are furnishing their outdoor living spaces with comfortable and attractive furniture. Gone are the days of weather-beaten wicker chairs that look like they're about to fall apart. Today's outdoor furniture options include advances in furniture and fabric technology, so you can now enjoy upholstered furniture outside that looks so good you would welcome it in your living room.

Bright and Colorful Fabrics
Homeowners no longer have to rely on boring neutral colors – if you'd like, go with more bold choices. Feel free to go wild with the modern patterns and color palettes that strike your fancy. Magenta, teal–if it goes with a green lawn, and you love it–it's perfect!

Check out these colorful patios!

Fashionable Flooring
One of the best ways to elevate your outdoor space is to make the flooring pop. Whether it's painting your porch or adding great outdoor floor tiles or rugs–you can bring a space together in comfort and style with chic flooring.

Fire Features
Upgrade your porch or patio, with an outdoor fireplace. A fireplace acts as a natural gathering spot to pull people in and make it more enjoyable to spend more time outside. If a fireplace is too permanent for you, you might also consider a fire pit instead.

Get inspired by these fiery ideas!

Automatic irrigation system.
Whatever you choose, if you want to enjoy a great outdoor living area, you'll need a lush green lawn to go with it. That means you'll also need a way to water effectively and efficiently. A professionally installed irrigation system will allow you to do just that and make watering your lawn a breeze.

Ready to update your outdoor living space? Consider one of the trends above and be sure to contact Hydro-Tech Irrigation for the help you need with maintaining a gorgeous lawn. Visit our website today to learn more