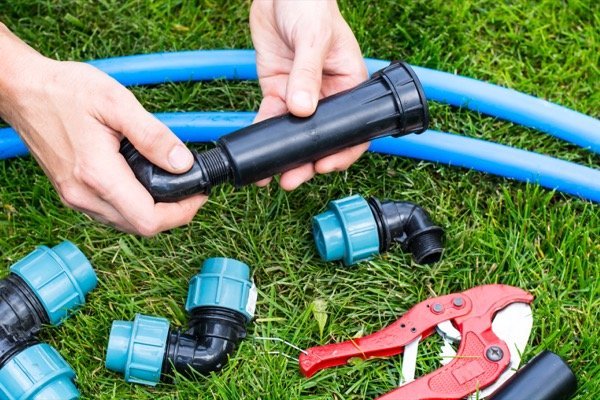 Since 1991, Hydro-Tech Irrigation, Co. has specialized in residential and commercial irrigation. Our installation of sprinkler systems is customized for each individual home or commercial property and landscape design. Every irrigation installation begins with the design and is carried through to the set-up of each sprinkler head, the location of the control valves, the installation of the pipe, and the mounting of the controller and rain sensor.
Here at Hydro-Tech we use state-of-the-art pipe laying equipment to ensure that most residential irrigation systems are installed in only one day with minimal lawn disturbance.

Do you know when to water your grass?
After 25 years in the irrigation business, Hydro-Tech has installed more than 10,000 residential lawn irrigation systems. We pride ourselves on water sensitive designs along with top quality materials and workmanship. We work hand in hand with landscapers, builders and homeowners alike on new construction projects as well as existing lawn and landscapes.
What's so great about an irrigation system?
You'll Save Time: Your system will do it for you automatically.
You'll Save Water: Your system will be controlled by the latest technology that will not only automatically turn it on and off, but it will even detect the amount of rainfall and shut off the system in the event of excessive rain.
You'll save money: Not only will your system deliver the proper amount of water to just the right areas but your landscaping will thrive and flourish due to the consistently adequate watering at optimal times during the day.
You'll Rest Easy: Knowing that your system was installed and serviced by one of the oldest and most respected companies in the industry.
Keep in mind that sprinkler installations should always be performed by a licensed professional to keep your landscaping in pristine condition without drowning plants or flooding your property. We locate all buried utilities. Each system is custom designed by a licensed irrigator for maximum efficiency and uniform coverage. Head-to-head coverage is also guaranteed and any dry spots are covered by our warranty.
Learn more about sprinkler systems.
Call the irrigation specialists in Virginia today to schedule your FREE estimate on new sprinkler and irrigation installation or reroutes. We will design a system that will deliver optimum performance for you.