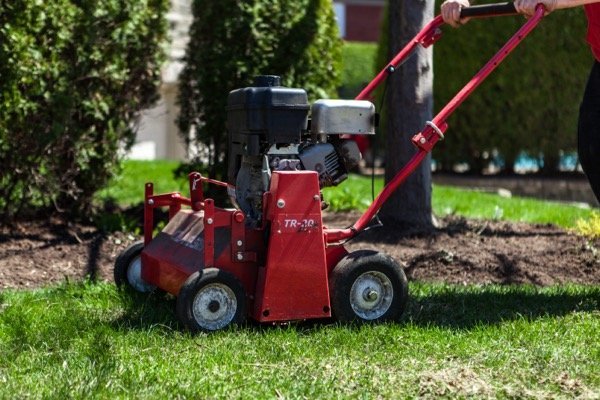 You might have noticed that we recommend aeration every fall. What is aeration and why is it so important? Hydro-Tech Irrigation, Co. is here to help with the information you need.
Basically, your lawn and the soil beneath it need to be able to breathe. However, the build-up of lawn thatchmakes it hard for your lawn to breathe properly. Thatch is the layer of dead and living grass shoots, stems and roots that accumulate between the soil and grass blades in your lawn. Thatch build-up occurs when the turf produces organic debris faster than it can be broken down.
We perform lawn core aeration in the fall to help control the problem and remove small cores of soil and thatch from your lawn. Learn more about the problems of thatch here.
Aeration is beneficial for your lawn in a number of ways. Aeration will overcome compacted soil. Compacted soils make it difficult for roots to grow, limiting the movement of air, moisture and fertilizer through the soil.
Aeration will reduce your water requirements. By relieving soil compaction, water penetration is increased and water run-off is reduced.
How's it done? Give us a call, we'll do the rest!
Our specifically designed aeration equipment consists of a series of hollow coring tines. When these tines are rolled over the lawn, they puncture the soil, systematically removing small soil plugs.
The cores of soil and thatch are pulled up by the machine and left on the lawn, as they contain beneficial microorganisms that will help to break down the remaining thatch.
They will disappear back into the lawn in about seven to ten days or with the first mowing.
After the aeration is completed your lawn will be overseeded with premium grass seed. Problem areas will be hand raked and seeded.
Related: Don't make these mistakes with your lawn!
If you have any questions or need some lawn irrigation advice, call Hydro-Tech Irrigation Company today, or visit our website today.